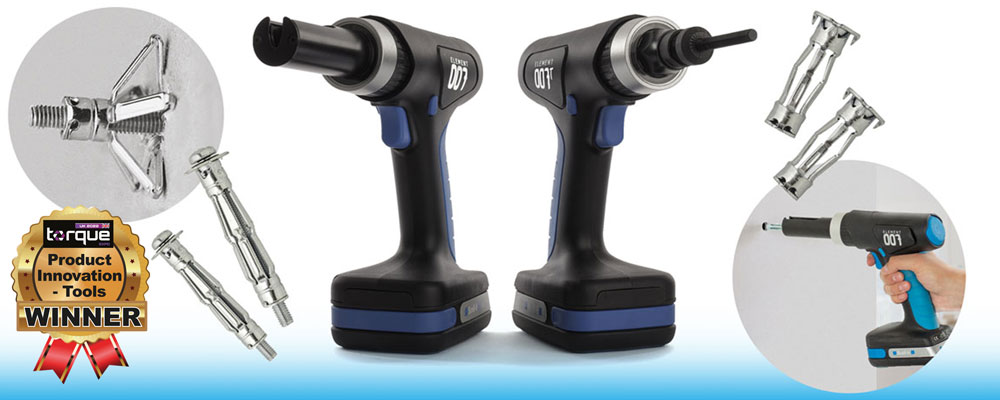 New Economical Battery Powered Setting Tools Range launched with a worldwide first.
Scell-it UK Ltd have just launched a new economical range of tools to add to their ever growing battery powered 'Element' Range. These new setting tools – the 'E-00' series – have not only lowered the entry level price for battery powered setting tools, but also include a couple of patented worldwide exclusives.
The award-winning E-007 and E-007-T are the world's first battery powered tools for installing hollow wall anchors.
The E-007 sets anchors with a screw, whilst the E-007-T uses a built in mandrel to set anchors without a screw. Both can set a range of M4 to M8, and a setting adjustment dial on the back of the tools allow for the perfect setting of stroke adjustment from 4mm to 40mm. This means a wide range of diameter and lengths of anchor can be accommodated.
The 'quick-setting' powered action of these tools means setting is performed effortlessly in an instant with one squeeze of the trigger. This saves time and effort compared to more conventional methods such as using hand grip tools – or screwing the anchor in manually.
>Watch the E-007 in action on our YouTube video here.<
An impressive total of 500 anchors can be set on one battery charge, due in part to the very efficient 'brushless' motor. This advanced technology usually found on more expensive tools is supplied on the whole range and provides increased durability, more noise reduction and uses less energy.
---
The other two tools in the new range include a Rivet setting tool – the E-005, and Rivnut setting tool – the E-008.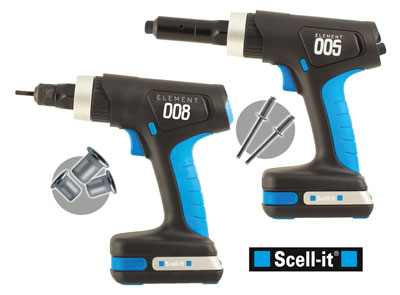 The E-005 has a 'Quick set' system with changeable nosepieces stored conveniently in the back of the unit. This allows it to set a range of Aluminium and Steel rivets from 2.4mm to 4.8mm, and Stainless Steel from 2.4mm to 4.0mm.  A minimum of 400 rivets can be set on one battery charge (dependent on nut diameter).
The E-008 comes with a set of 4 nosepieces and mandrels, allowing for a setting range of rivnuts (Aluminium, Steel and Stainless Steel) from M3 to M6. The E-008 also has a stroke adjustment dial, similar to the E-007, to fine tune the setting. One battery charge will set a minimum of 320 rivnuts (dependent on nut diameter).
---
All the 'E-00' tools range utilize the ergonomic blue design of the Scell-it 'Element' range. This includes a soft feel and high grip material with a smooth trigger and handle – all packed in units that are lightweight, at under 1.4kg, and just 210mm tall.
Although economical on cost, they all have a full set of features – such as LED lights to illuminate the work area, easy grip handle, reverse button, rigid carry case, Sell-it's usual one year guarantee and an 'Element' battery with a quick charger unit.
This Scell-it 'Element' Li-ion battery is interchangeable with all the 'Element' tools in the Scell-it range. It is simple and fast to charge up (just 30 minutes), with indicator lights clearly displaying the charge level.
The E-00 range has just been exclusively stocked by Scell-it UK Ltd in the UK and Ireland. Call Scell-it UK for more information.
---