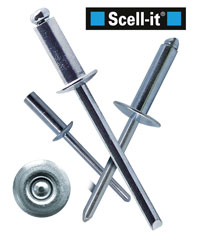 Scell-it offer a wide range of rivets in different materials and in a variety of head types. They will provide a permanent and secure grip for clasping materials together. We have many designs available suitable for different applications such as soft or thin materials, plastic, gas & water proof, anti-vibration and dense materials. Our structural rivets are used for heavy assembly with high mechanical stresses providing maximum security and performance, ideal for supporting heavy loads such as on flooring and metal panelling.
Scell-it also provide a wide range of manual, pneumatic and battery powered setting tools.
Contact us to place a next day order or to discuss any further details.